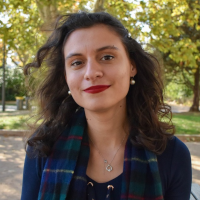 Margaux Jacob (PPD 2020) – Environmental Economics Consultant at I Care & Consult. Access her LinkedIn profile.
Throughout her career, Margaux Jacob has been able to build a rich multidisciplinary background allowing her to achieve her professional goal. With her scientific baccalaureate in hand, she headed for a preparatory class in Letters and Social Sciences at the Lycée du Parc in Lyon, with the aim of preparing for the entrance exams to the École Normales Supérieures (ENS). What mostly interests her there is the wide variety of disciplines available: history, literature, philosophy, sociology, mathematics … and, in particular, having a first contact with economics!
In 2017, she joined the Department of Economics at ENS – PSL. After her bachelor's degree, she chose to enroll in the Master PPD – Public Policies and Development, which offered her the opportunity to do an internship from the first year of the programme and acquire operational evaluation techniques, while expanding her theoretical foundation.
Her first research internship at the University of Milan thus led her to work on the link between CAP subsidy policies and the price of land in agricultural land. In addition to the courses and her internship, Margaux wass also taking specialization courses in computer programming, foreign languages ​​and environmental sciences.
Margaux's did her second research internship at PSE, under the supervision of her master thesis director, Fabrice Etilé, with the objective of successfully estimating the impact of a media and health scandal – the presence of horse instead of beef meat in frozen dishes – on the meat consumption habits of the French people. As Margaux confides – the project was very challenging as it required understanding very large databases that were difficult to handle. The had to work very hard and to be very thorough to define the right model in order to obtain consistent and exploitable results.
Wishing to finally break away from research and get closer to the field, in 2021 Margaux joined the independent environmental consulting company I Care, after having completed an end-of-studies internship there. The company's missions corresponded perfectly to her expectations. She is now working on a wide variety of stimulating themes relating to environmental protection, an area that has been close to her heart for a long time!
Edited by Paris School of Economics – Lettre PSE number 44