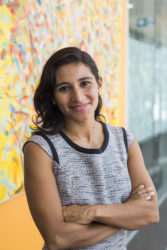 Silvia left her native country very early as she left Colombia immediately after obtaining her high school diploma in 2003. She went to London to learn English: after a year of cold and greyish, she decided to join the University of Montpellier in order to validate a degree in econometrics. She already thought about the next step, ambitioning to enter the Sorbonne in the medium term while improving her French. Montpellier was a good first step in France. In 2008, Silvia joined the University of Paris 1 Panthéon-Sorbonne in an international master's degree in development economics. During these two years, she took from time to time some courses at PSE, an opportunity for her to discover the institution but also the work of Pr. François Gardes.
This was the beginning of a fruitful collaboration with Pr. Gardes who became her thesis director: Silvia integrated the PSE doctoral program in 2010, seduced by the institution's growing reputation. Her thesis focuses on "the economy of time", a literal translation of "Economics of Time Use", and more specifically on the links between domestic production and inequality (particularly wages). Throughout her five years of thesis, she gave courses at Univ. Paris 1 & Paris 13, felt good in France but thought about the future, wishing to discover new horizons. In 2013, she stayed and taught for six months at the Universidade Católica Dom Bosco in Brazil, and confirmed this desire.
In the last weeks before her thesis defense, she saw a job offer from Bankwest Curtin Economics Centre (BCEC) in Australia, Silvia applied immediately. She has been working within this institution since 2015, halfway between public and private sectors, jointly founded by the University of Curtin and Bankwest. According to her, the research conducted there is highly visible among women and men politicians, ministers, private actors, etc. She appreciates that the dissemination of research is more evident than in France – she feels encouraged and encourages the institution to nourish this strong point
Last but not least, Silvia works mainly on Australia's Aboriginal people, a subject that she is passionate about and that mobilizes all her enthusiasm and skills. In particular, she wonders what causes inequalities between Aboriginal and non-Aboriginal people in the labour market? Why are they less healthy and less educated? Why do Aboriginal people in Australia have the highest percentage incarceration rate in the world? She hopes that in the coming years this research will attract the attention of scientific journals, but also of Australian society. Rendez-vous is caught!
Visit Silvia's personal webpage & Linkedin.
Source: La lettre PSE, Oct. 2018