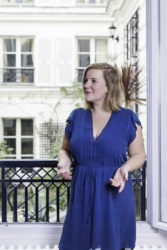 Manon Falquerho never wanted to close the doors. Interested by a wide range of subjects, she began her graduate studies in 2007 with a preparatory class Hypokhagne and Khâgne B/L in Bordeaux and then entered the École normale supérieure de Paris in 2009 to achieve a double degree in social sciences and economics (in partnership with the Sorbonne University). During her last two years at the ENS (2010-2012), she made the choice to join PSE in order to carry out the Public Policy and Development Master in order to increase her knowledge in econometrics and development economics. At that time, her desire to discover the world was important and she left with the IRD to Senegal for her internship. Dakar, a cosmopolitan city in a developing country, is for Manon Falquerho a beautiful gateway to West Africa. Above all, she wanted to make her own contribution to the IRD project on the precariousness of workers in Senegal.
In 2012, she obtained her first job as a research assistant at the IRD where she worked on collecting data on the French colonial empire. She is mainly based in Paris but has the opportunity to travel to Mali in Bamako to carry out investigations. This very rewarding experience remains too analytical for Manon who seeks more regular contacts with real-life situations, and decides to join in 2013 to the World Bank in Congo as a field coordinator.
This is a turning point in his professional and personal life.
In fact, Manon will gradually move away from research to favour logistics. Back in France in 2014, she says goodbye to her first career to devote herself to a new challenge: navigation. After a few weeks of learning, Manon decided to embark on a boat going to the Caribbean in order to travel while learning cooking and Spanish. In 2015, she became a top chef aboard private sailboats. For two years, she flourished in this atypical lifestyle. Prompted by the desire to discover other environments, she returned to France, and in September she was hired by Foodora, a start-up specialized in meal deliveries. Quickly she switched from customer service to operations lead. She feels good about it and the strong development of the company gives her what she likes: challenge, adaptability, permanent novelty… But Manon is bored in Paris, looking to a new experience abroad. She decided to reconnect with her desires for discovery by working in a new field: tourism, in a country previously unknown to her: India. She joins the company Vintage Rides in New Delhi within the sales department. She met a team of enthusiastic people, in contact with whom she discovered the world of motorcycle and touring in Asia, while learning Hindi. This is the beginning of a beautiful adventure: the travel agency is now present in many countries, Manon's world trip is not finished yet !
Source: La Lettre PSE, July 2018