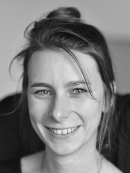 On the benches of the ENS Cachan, Marion already has an idea of what she wants to do later: research! For three years, her life was divided between courses at the ENS and courses at University Paris 1 Panthéon-Sorbonne, where she took a master's degree in international economics. After she left ENS, Marion joined the first promotion of the Master 2 PPD (Public Policy and Development) at PSE. This year was an opportunity for her to confirm her desire to carry out a thesis, to follow a training of excellence and to complete her previous course.
She began her thesis in September 2010, entitled "Migration, development and politics in the Homeland" under the co-direction of Pr. Thierry Verdier (PSE-ENPC) and Pr. Lisa Chauvet (DIAL-IRD). From those four years she remembered rich exchanges with exciting researchers, a confrontation with the reality of research work: the vagaries of research, solitary work and the learning of new methods.
Marion got a post-doctorate position just after her thesis defense, she worked for a year on a research project at Université Libre de Bruxelles (ECARES). She then obtained a new post-doctorate, this time at the Catholic University of Leuven, where she worked on her own project financed by the European Commission. His research is currently on how diasporas can interact with their country of origin. More specifically, how migrants can play a role in conflicts in their country of origin, promote peace or aggravate conflicts… …

For her future Marie has no doubt: she wants to continue working in the academic world on questions of development, political economy and migrations, which stilll fascinate her !
Source: La Lettre PSE, March 2017